Greetings Rattler Family,
Congratulations on your student's acceptance into Florida Agricultural and Mechanical University, passionately known as FAMU!
The Office of University Housing has created a centralized online platform where parents of students can access information and resources related to University Housing. The information contained here will be updated on an ongoing basis as we strive to keep you abreast of the happenings in University Housing. The parent portal serves to provide access to important documents and forms, such as the student housing agreement, move-in instructions, and housing policies, in a digital format for easy reference.
It is imperative that your student stay up to date by following our Social Media pages at famuhousing1887 and paying attention to any announcements delivered through FAMUINFO. The same information they receive there will also be uploaded here. We do ask that you allow your scholar to become the responsible young adult you have raised them to be and take care of their own affairs. However, we understand that some information may slip by as they work towards GRADUATION and would like to make you aware.
First, if your student is Newly Admitted, please sit down and review their Admissions Packet in full to avoid any obstacles when it is time to apply for Housing.
If you have a Returning Student, please advise them to pay attention to FAMUINFO as this is often the method of first release for new information.
Lastly, feel free to explore the entire University Housing webpage at your convenience and contact us with any questions or concerns at (850) 599-3651 or famuhousing@famu.edu.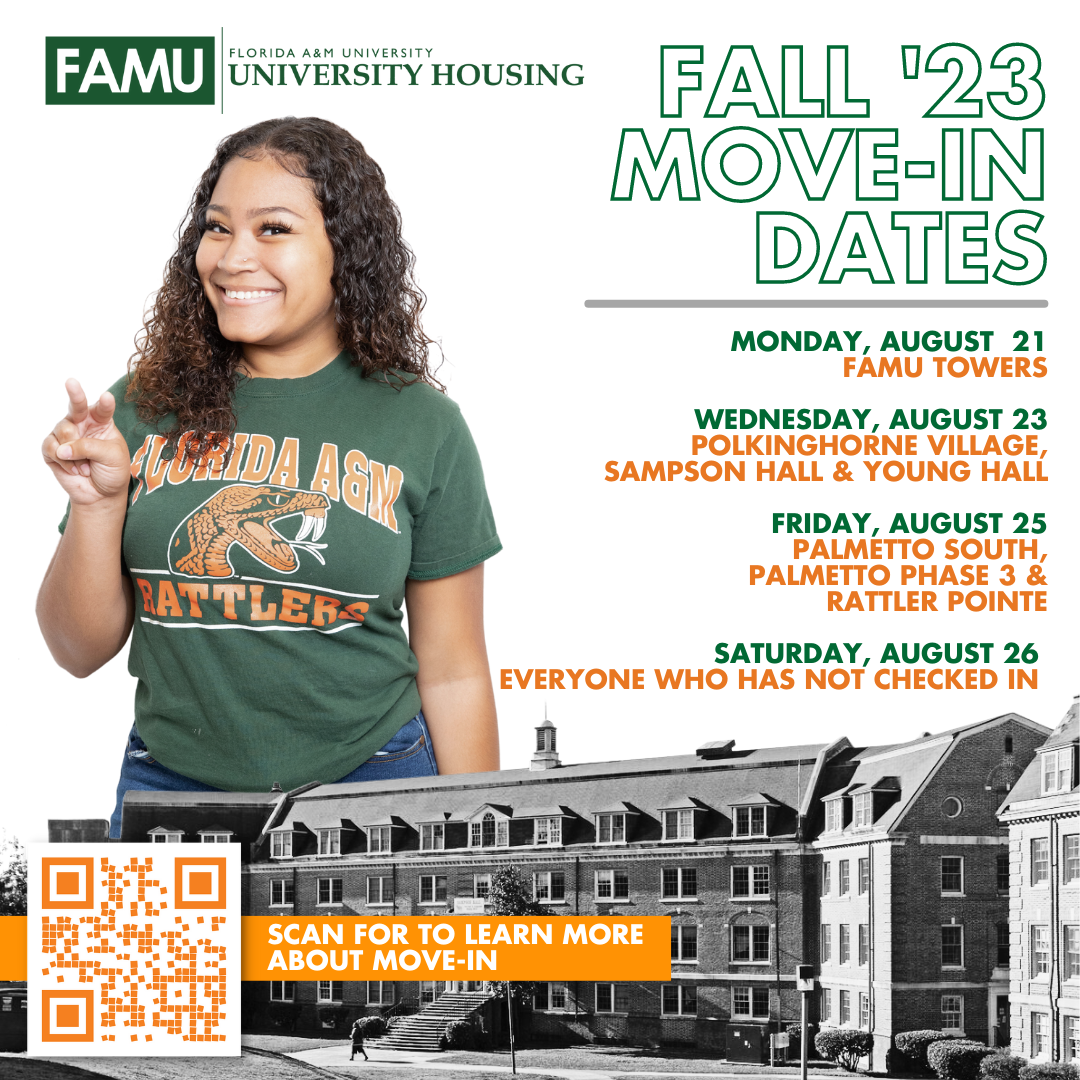 Fall 2023
Residence Halls Open
August 21-26
First day of Classes
August 28
Labor Day (No Classes)
September 4
Veterans Day Observed (No Classes)
November 10
Thanksgiving Holiday (No Classes)
November 22-24
Last Day of Classes
December 8
Final Examinations
December 11-15
Commencement
December 15
Residence Halls Close
December 16
Spring 2024
Residence Halls Open
January 5
First day of Classes
January 8
Martin Luther King Jr Holiday
January 15
Spring Break
March 11-15
Last Day of Classes
April 26
Final Examinations
April 29-May 3
Commencement
May 3
Residence Halls Close
May 4
Summer 2024
Session A/C
Session B
Residence Halls Open
May 10
June 20
First day of Classes
May 13
June 24
Memorial Day
May 27
Juneteenth
June 19
June 19
Independence Day
July 4
July 4
Last Day of Classes
June 20
August 1
Final Examinations
June 20-21
August 1-2
Commencement
August 2
August 2
Residence Halls Close
June 22
August 3
Fall 2024
Residence Halls Open
TBD
First day of Classes
August 26
Labor Day (No Classes)
September 2
Veterans Day Observed (No Classes)
November 11
Thanksgiving Holiday (No Classes)
November 27-29
Last Day of Classes
TBD
Final Examinations
December 9-13
Commencement
December 13
Residence Halls Close
TBD