Our staff is made up of enthusiastic students and leaders who have direct influence on campus culture and develop valuable leadership skills such as communication, building rapport, and managing conflict while making a substantive contribution to the campus community.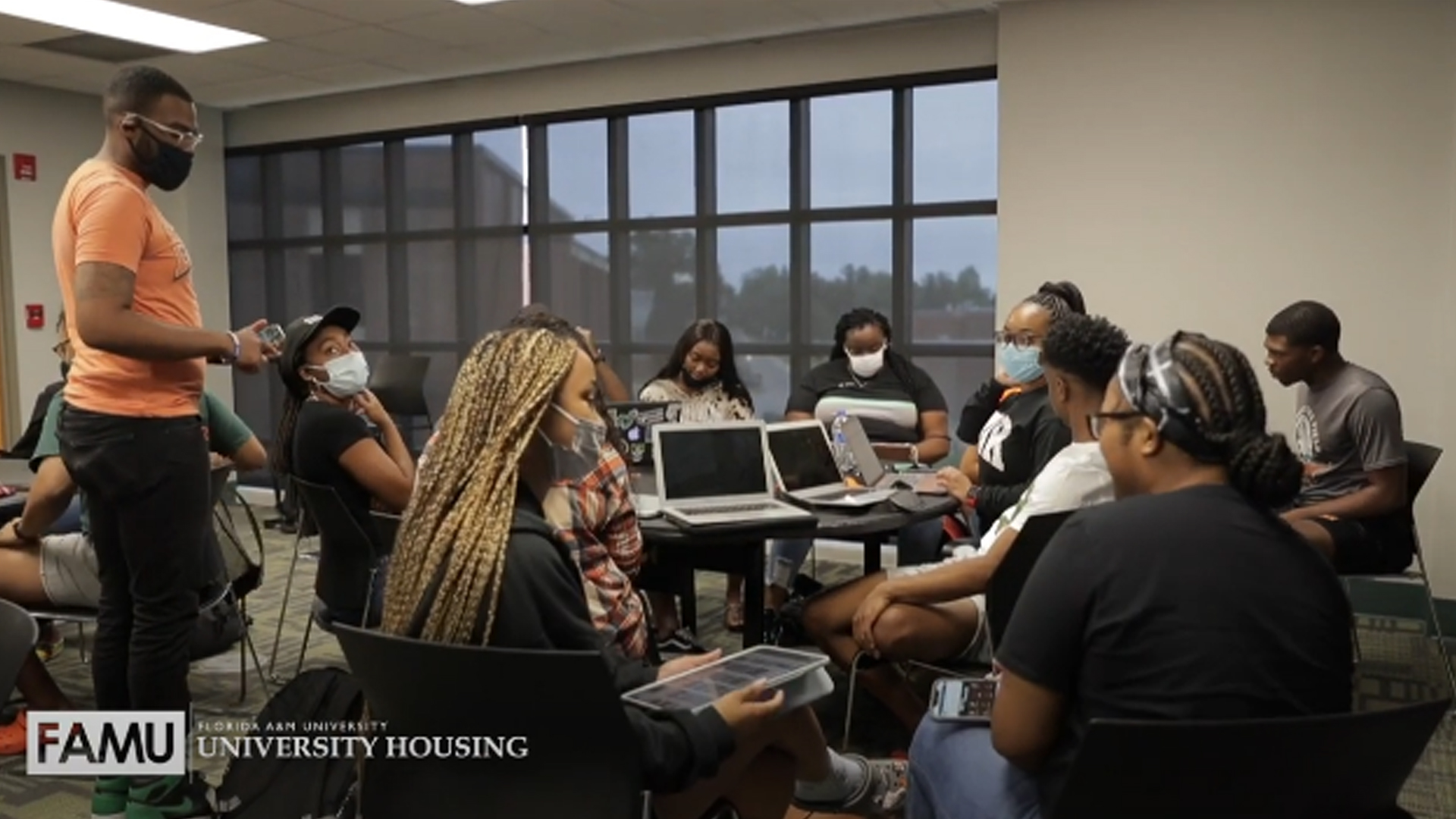 Upcoming Positions
Digtial Marketing Intern (2)
This paid internship will provide the intern valuable, real-world experience, and will offer an opportunity to learn from a division of Florida A&M University that is eagerly developing innovated and creative branding and marketing strategies. Application Link: https://bit.ly/2ZOERBK (Opens Nov 9)
University Housing is seeking a creative, energetic, organized, and results-focused intern to assist the marketing team in day-to-day activities and operations. This individual must be ambitious, self-motivated, and have a passion to work in the marketing and communication industry.
Create content and manage content for the OUH Social Media Calendar
Generate and gather content for monthly newsletters.
Organize and help prepare materials needed for any upcoming offsite or onsite events.
Take pictures and videos of student interaction and activity within Residence Halls that can be used for social media, marketing collateral, the website, etc.
Perform a comprehensive competitor analysis on University Housing's key competitors.
Participate in bi-weekly marketing meetings.
Create an intern portfolio showcasing work done during internship.
Assist with any additional marketing related projects or duties.
Attend and fully participate in all OUH events, trainings and other staff development activities.
Have a two-hour time block from 10:00a.m. until 12:00p.m. free on Tuesdays for staff meetings or development during the fall and spring semesters.
Complete a total of 3 office hours per week at the time of your choosing
The pay rate will be $11.00 an hour. A total of 25 hours per week will be allotted.
Resident Assistant (RA)
RAs serve as valuable campus resources and have many different responsibilities. RAs spend significant time getting to know their residents, building relationships with and among their residents, and serving as a positive peer leader.
Resident Assistants (RAs) are part-time paraprofessional staff members of the Department of University Housing who live in an assigned residential facility. RAs work under the immediate direction of a Resident Director (RD), and is indirectly supervised by the Assistant Directors (ADs) of Residence Life. RAs also must enforce community standards and University policies to maintain safe, inclusive residential communities. Most importantly, RAs work hard to foster communities that are welcoming and conducive to living and learning.
Community Development
Build a positive and inclusive community

Cultivate intentional group and individual connections

Organize community building and social activities

Assist students in getting connected to campus organizations

Assist the Residence Director and Housing staff with executing educational events
Role Modeling and Community Responsibility
Provide overall peer leadership to residents
Role model positive community standards
Adhere to University and Residence Life policies (e.g., Code of Conduct, Resident Handbook and Housing Contract) as well as state, local, and federal laws, and ordinances
Provide peer accountability for the FAMU Code of Conduct
Refer and encourage students to utilize academic and student success resources on campus
Crisis Response & Building Management
Provide crisis response and crisis management
Assist with opening and closing assigned residence hall each semester
Participate in on-call duty rotation (including weekends and some break periods) in assigned residential area
Respond to resident needs, facilities concerns, and emergencies
Manage residential facilities through inspections, rounds, and reports
Helping Skills
Assist students with personal, academic, and transition concerns
Encourage a cooperative and considerate living environment
Help resolve roommate or group conflicts that may arise
Role model academic success skills
Administration
Turns-in paperwork assignments by established deadlines and with high quality.
Handles administrative paperwork and procedures for occupancy management/facility management tasks, including but not limited to, check-in/out, roster verifications, inspections, and keys.
Submit duty and incident reports as required
Other duties as assigned
Attend and fully participate in all staff trainings other staff development activities, which are mandatory for all RAs.
Have a two-hour time block from 3:00p.m. until 5:00p.m. free on Wednesdays for staff meetings or development during the fall and spring semesters. Any exceptions need to be approved by Assistant Directors of Residence Life.
Be reasonably available to residents in the evening hours and on weekends when in town.
Resides in the building every night of the week, including during duty, and/or closed weekends.
There will be certain weekends that will be deemed "closed weekends" and all staff will be required to remain in the halls that weekend. Typically, closed weekends are the weekends prior to hall closing each semester, however the Assistant Directors for Residence Life holds the right to declare a "closed weekend" at any time.
Remains in the hall and responds as directed during times of crisis (e.g., weather emergencies).
RA's will be allowed but are not guaranteed a maximum of (5 days) off per month. Days may be taken as individual days (5 max) or weekends (2 max) per month. Requests for individual or weekends off must be submitted 72 hours prior to the absence and pre-approved by the Resident Director before leave can be taken.
RA Compensation for 2022-2023 is currently under review
Serve in the position for the entire Resident Assistant Agreement.
Consult a financial aid advisor to fully understand the impact RA compensation has on financial aid/scholarships received.
Enrolled as a full-time undergraduate (12 credits) or graduate (9 credits) student at Florida A&M University.
Maintain a 2.7 grade point average (both semester and cumulative) while holding the Resident Assistant position, failing to meet this expectation at any point of employment may result in termination. Graduate level Resident Assistants must maintain a minimum grade point average of 3.0.
Be available on Wednesdays from 3 p.m. to 5 p.m. for Staff Meeting
RAs are expected to achieve an 80% competency level in online training.
Work up to 25 hours per week between desk duty, on-call duty, programming, administrative responsibilities, training, room inspections, and other assigned duties.
No first time RA will be permitted to maintain additional employment outside of Housing.
All returning RAs must receive prior approval from their supervisor for any additional employment outside of the RA position.
RAs CANNOT have dual employment within the University; RA's cannot have another contract during the contract period with housing.
Communicate with the respective Coordinator before committing to co-ops, field placement, internships, or other similar academic program requirements.
Communicate and get approval from Coordinator and assigned Assistant Director before registering for more than 15 credit hours in a semester,
RAs may be placed in a different building by the University Housing Department if the staffing needs of the buildings warrant such a change.
Assume responsibility for all equipment, supplies, and resource materials issued to be used in conjunction with the RA position.
Realize that continuing appointment to the RA position is dependent upon performance of responsibilities and fulfillment of the expectations of the position, as determined by the department and can be reviewed at any time circumstances warrant.
RAs must reapply for their position each academic school year.
RAs will be formally evaluated by their supervisor twice each semester (mid-term and end of semester).
RAs may incur financial penalty (fines/stipend recouping) for any performance deficiencies.
RAs must maintain a clean and safe living space and understand that they must pass room inspections.
RAs should understand that they will be relocated to any available spaces if they choose to leave their position or are terminated.
Employment for the duration of this agreement, unless I fail to honor this agreement, in which I will relinquish my position immediately and follow the outlined procedures for separation.
Desk Assistant (DA)
The Student Desk Assistant (DA) will demonstrate an ability to provide great overall service at the front desk of residential facilities and will be responsible for all administrative tasks that occur at the front desk.
The residence hall desks are considered a professional working environment. This is the heart of the building, often the first impression that a resident, family, or visitor to the institution may have. The front desk plays an intricate role in the success of every residence hall. The desk workers are in essence the "face" of residence life, managing many day-to-day functions that are crucial to the success of our communities. As official University staff members, Desk Assistants assume responsibility for maintaining a level of behavior consistent with the educational philosophies of the University.
Being thoroughly familiar with all University and residence hall regulations and responsible for their enforcement.
Performs administrative tasks as assigned by supervisor.
Documents all hall activity in the front desk logs and/or through the online documentation system.
Assists with handing out keys, collecting keys, or making changes to keys.
Acts as liaison between FAMU Housing Maintenance and residents when there is emergency maintenance; and
Covers the desk for specified shift to help answer or assist with residents.
Performs bi-hourly rounds and reports any suspicious activities to FAMU police and/or on-call personnel.
A cumulative FAMU grade point average (GPA) of 2.5 undergraduate or 3.0 graduate cumulative at time of application and employment (transfer students may not use the GPA from their former institution).
Maintains a 2.5 or 3.0 cumulative GPA throughout the period of employment and at least a 2.5 semester GPA each semester employed.
Maintains full-time student status during semesters while employed. During summer enrollment in classes is optional; and
All students who are hired must remain in good conduct standing with the University while employed.
The pay rate will be $11.00 an hour.
Student Success Mentor
Student Success Mentors are current FAMU students who are selected because of their leadership potential, enthusiasm, academic record, and desire to help their fellow Rattlers achieve their goals at FAMU.
Student Success Mentors work as peer mentors with incoming on campus residential students, assisting them in them transition through college life through participation in the housing and campus events along with appropriately directing them to campus resources based on individual and or community needs.
Mentors will assist students in making a successfully navigating university life and help them make
progress toward fulfilling their academic and career goals.
Mentors will maintain contact with their assigned students and provide support to students as they
navigate university life.
Mentors will help their students network with peers, faculty, professionals, and the administration.
Mentors will refer students to appropriate resources on campus, including Academic Support Service,
the Counseling Center, Academic Advising, the Career and Professional Development Center, etc.
Mentors will additionally work with faculty and/or housing staff to assist in the facilitation of
programs such as Residential Development Communities, Living-Leaning Community, the Academic
Student Team, study halls, department-wide and facility events/activities.
At the time of applying for the position have at least a 3.0 GPA, be in good academic standing, and
maintain this status during employment
Be a full-time student at FAMU with no active judicial record
Have completed at least two full semesters of college at FAMU, by fall 2021
Have a genuine desire to work with your fellow students
Have the ability to relate to students from a variety of backgrounds and abilities
Possess strong verbal and written communication skills
Have the ability and desire to work as a team member
Feel comfortable leading a group of up to 30 students
Have basic understanding of university policies and procedures
Be able to take direction and work independently as needed
Student Success Mentors will be compensated at the rate of $11/hour at 15-20 hours a week.
RHA Executive Board
The Residence Hall Association, representing the residential community of Florida Agricultural &Mechanical University acknowledge individualism through learning and understanding by promotingtolerance, integrity, and unity among students
The intent of this document is to guide RHA Executive Board members in the performance of their job responsibilities and to outline expectations from the RHA Advisor and University Housing Senior Leadership. Senior Leadership has the authority and responsibility to interpret this document, as well as to make changes as necessary to ensure the proper functioning of the Office and its staff. The RHA Advisor is permitted to create stricter guidelines for the executive board members
All members of the Executive Board must:
Attend all Executive Board meetings.
Attend all RHA events.
Maintain active communication with the Executive Board, and RHA Advisor.
Collaborate with the Director of Marketing and Events on publicity as necessary.
Maintain contact and ensure that proper arrangements are made for programs and event
planning.
Maintain and uphold the standards and goals of RHA as set forth in the university regulations,
and this constitution.
Create one transition binder for the incoming Executive Board members during the Spring
semester
Executive board members should attend and fully participate in all trainings and other development
activities.
Must be available for two hours office hours weekly
Serve in the position for the entire RHA Executive Board Member Agreement.
Consult a financial aid advisor to fully understand the impact RHA compensation has on financial
aid/scholarships received.
Enrolled as a full-time undergraduate (12 credits) or graduate (9 credits) student at Florida A&M
University.
Maintain a 2.7 grade point average (both semester and cumulative) while holding the position, failing
to meet this expectation at any point of employment may result in termination.
Employment for the duration of this agreement, unless I fail to honor this agreement, in which I will
relinquish my position immediately and follow the outlined procedures for separation.
RHA Executive Board members will receive:
A housing discount of 50% in a suite style living space with a shared bathroom
$100 Rattler Bucks.
Join the University Housing Team Today! RA, DA, Success Mentors and RHA Applications open
Monday, January 17
th
Resident Assistant (RA) Recruitment and Selection process will start in November with returners and will continue during the spring semester for new hires.The selection process is designed to help applicants get to know new people, learn about themselves, and gain the important necessary skills to be a proper OUH profesional.
Contact Us
| Name | Email | Phone |
| --- | --- | --- |
| Jairus Williams | Jairus1.williams@famu.edu | 850-412-6554 |
| Taylor A. Johnson | taylor.johnson@famu.edu | 850-561-2365 |
| Dr. Terence Turner | terence.turner@famu.edu | 850-599-3780 |
| Herb Johnson | herbert.johnson@famu.edu | 850-599-8850 |